How Crimson Apprentices Spent 1000 Days On Live Client Projects
---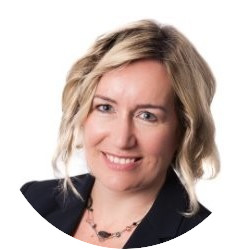 Cat joined Crimson in 2019 to build the Crimson Academy. She started by identifying the goal of the organisation – rounded successful professionals. It was important not to focus just on technical ability, but also soft skills such as presentation and communication skills.
Having spoken to Martin and the Digital Native team, it was very clear what made Digital Native different – they work with their clients to build a programme that fits.
"Digital Native genuinely care about individuals and believe in their growth…It's not just a one size fits all programme."
Crimson's apprenticeship programme is based on a theory of experiential learning and is designed so the coaching from Crimson and Digital Native support each other. Topics are covered more than once using a variety of techniques, appealing to learners' individual strengths and learning preferences.
As well as technical training, apprentices are coached on soft skills. This creates a safe environment for the apprentices to fail, learn and grow. From month 4, apprentices take part in Crimson's Knowledge Academy. This covers topics such as financial awareness, business change and building effective relationships. The core aim of this is to help the apprentices understand and tolerate differences, as this leads to stronger team players.
Crimson's Academy has had a massive impact on the wider business. Apprentices start working on live client projects early in the programme, giving a total 1000 days spent on client projects by apprentices over the last two years. Through the Crimson Academy, the business demonstrates how it continues to invest in helping clients get the most from their investment in Microsoft cloud technologies.
The Academy is a fundamental part of Crimson's strategic objective to grow the organisation over the next three years. With 22 apprentice recruits so far, Academy graduates now make up over 20% of the workforce.
"Intelligence is not static or innate, it can be developed. We're now getting that message across to the rest of the organisation as well."
Crimson and Digital Native have developed a strong partnership through a relationship of mutual honesty and respect. Neither party is scared to say they got it wrong, knowing that we share a vision of continuous improvement for the programme.
Shared values mean that Cat can trust that when the apprentices are with Digital Native there is equal focus on their mental wellbeing and technical abilities.