Iwan's Story - Relocating For An Apprenticeship
---
Why did you choose an apprenticeship?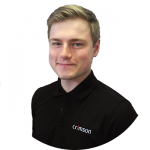 I primarily chose an apprenticeship over university for the security. With a university degree, you run the risk of training for years only to enter an oversaturated job market. You may also find that, by the time you graduate, your skills are no longer in demand or you don't enjoy the subject anymore.
An apprenticeship sets you up with a clear career path and gives you a strong work ethic. When I was doing my A-levels, it was very easy to lose motivation as I couldn't see the results of my work. Now, when a customer is happy with a solution I've provided, it's really rewarding. It makes it much easier to stay motivated and enthusiastic about work, which wouldn't be the same at university.
"When a customer expresses their excitement about a solution it makes it easy to stay motivated and passionate about work."
How did your friends and family feel?
My friends and family have been really supportive. My family were a bit concerned about me moving too far away from Anglesey. One of the vacancies I applied for was in Kent – my mum wasn't too happy with that one! The other concern was whether I'd be able to survive on an apprentice salary while paying bills and rent, but that hasn't been an issue as Crimson pay a competitive starting salary.
My friends and family are confident my commitment to my career has paid off, especially since I've now been allowed to trial working remotely from Anglesey when I'm not working from client sites.
What was the application process like?
When I went to Digital Native for my interview, it wasn't like other interviews. They wanted to make sure this was the right route for me and that I understood what it entailed, rather than quizzing me on technical aspects. I was then set a data-oriented task and had an interview with Crimson. Again, it was quite informal. Then Suzanne contacted me to let me know I'd got an offer.
What's been the most useful part of the course?
Definitely the more technical theory modules like Advanced Analytics and Data Modelling. It's very difficult to learn that kind of thing on the job, you need to know the theory first. Having the course running side-by-side with your day-to-day role expands what you can do in the workplace. You always have books and resources to refer to when you're unsure. It's increased my confidence in my abilities, which comes through when I speak to customers.
What's your proudest achievement at work?
During lockdown, I was working for a Home Builder. I had a task on the DevOps board to use Artificial Intelligence to send intelligent responses to support tickets with relevant support articles. I could have used straightforward conditions such as "if the email contains the word 'leak', send back article X". Instead I used Microsoft AI's key phrase extractor to look for key phrases and find the best match in the knowledge base by scoring each article on its relevance. The user can also give feedback on whether the article solved their problem, which is fed back into the knowledge base to flag when articles need updating.
I'm currently getting ready to start a Digital and Technology Solutions Degree Apprenticeship, which I'm really excited about. You get to do a project for a charity and then write up what you did. In my mind, if I can't write about what I've done, I've not understood it properly.
In terms of work, Crimson are in the initial stages of building a data practice. I would love to be part of that.